Page Title
Spectacular Sunsets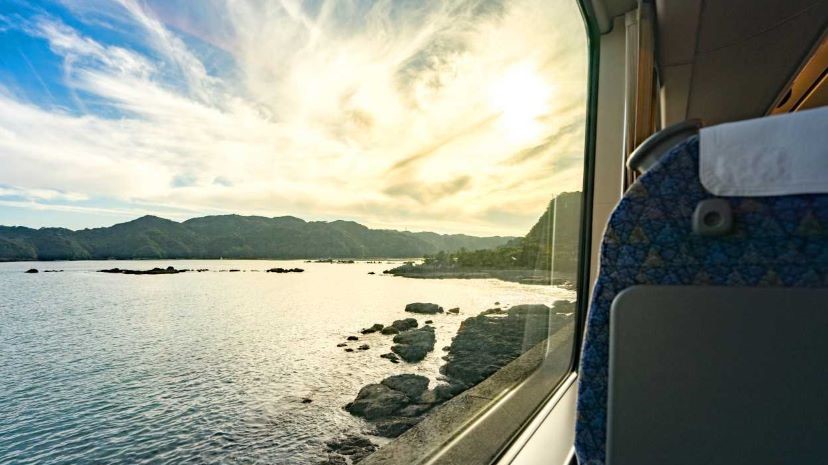 With the clocks set to go back shortly, many Brits will be getting ready for darker and cooler days ahead. However, it isn't all doom and gloom as one key benefit of Autumn is that the shorter days make it a lot easier to spot stunning sunrises and sunsets across the UK, without having to get up earlier!
In November 2021, sunrise is set to take place at around 7:30am while sunset will be at around 4pm – meaning that most commuters will be able to enjoy at least one 'golden hour' every day, on their way to or from work.
At Grand Central, our trains pass through some truly amazing locations each and every day. From dramatic coastlines and sleepy villages, to bustling cities and historic market towns, travelling by rail really does offer a whistle-stop tour of some of the UK's most wonderful locations.
Following the release of our 'Take the Scenic Route' videos earlier this year, we're eager to showcase even more of the amazing scenes that can be spotted from the comfortable carriages of the nation's trains. As such, we've launched a competition calling for train travellers to photograph and submit their best snaps of a sunrise or sunset they spotted whilst travelling on the UK's railways.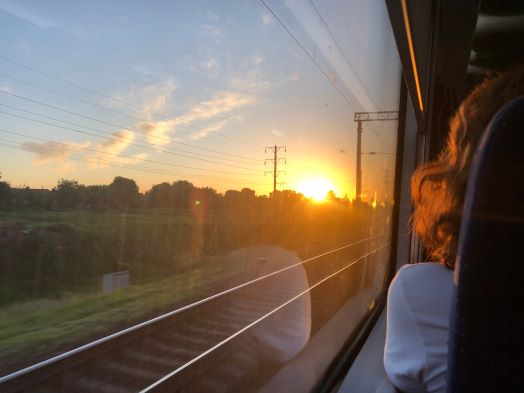 How to Enter:
Up for grabs is an amazing prize of two first class Grand Central rail tickets for any journey on our trains, so, for your chance to win, follow these simple steps:
Submit your very best photograph of a gorgeous sunrise or sunset snapped whilst travelling by train

Share some further details of your submission with us (your name, where the image was taken, date and time, etc.)

Entry must be made via the entry form on the Grand Central website

Entries open on Monday 1st November at 10am, and must be made before midnight on the Friday 19th November 2021, or else they will not be counted.
There is one prize available which consists of 2x First Class Grand Central Rail tickets for any journey with Grand Central Rail. Travel can only be made on a Grand Central service on a Grand Central route and is not available on trains with any other provider. Tickets will be sent out within 7 days of the winner claiming their prize. Prize must be claimed within 48 hours of the competition ending or Grand Central reserve the right to select a new winner. The winner must reside at a UK address only. No cash or voucher alternative is available.
Full T&Cs can be found below.
Wherever you are in the country, whether you travel by rail for work or for leisure the views of the UK that can be spotted from the comfort of the train carriage are so often worth paying attention to but something we so frequently take for granted.
For those traveling by rail, we encourage you to slow down, take the time to take in the beauty that's on our doorstep, and if you're so inclined to do so, stop and take a photograph for your chance to win with us. We're really eager to see the entries made and wish the best of luck to all those who enter.
Terms and Conditions
These terms and conditions apply to the Grand Central Rail's "Spectacular Sunsets" competition ("Competition") run by Grand Central Railway Company Ltd, registered at 1 Admiral Way, Doxford International Business Park, Sunderland, SR3 3XP("the Company").
By entering yourself into the Competition, you will be deemed to have read and accepted these terms and agree to be bound by them.
1. Eligibility
1.1 The Competition is only open to residents in the United Kingdom who are over the age of 18.
1.2 You will not be permitted to participate in the Competition if you are an employee of the Company, their families or anyone else who is related or associated with the Competition or its operators.
2. How to enter
2.1 Entries should be submitted via the entry form on the Grand Central website to be eligible to win.
2.2 The competition opens at 10:00am on the 1/11/2021, and you must submit your entry via the entry form on the Grand Central website by 11:59pm on the 19/11/2021
2.3 You may not submit on another individual's behalf. Agency and third-party submissions will not be accepted.
2.4 Your entry must not include any of the following:
2.4.1 pornography, adult-oriented content or any other sexually-explicit material;
2.4.2 explicit language or content, images of violence, or promotion of illegal activities;
2.4.3 content which brings or is likely to bring the Company or its website into disrepute;
2.4.4 material that promotes bigotry, racism, hatred or harm against any group or individual or promotes discrimination based on race, sex, religion, nationality, disability, sexual orientation, age or any other basis;
2.4.5 content owned by any party other than the entrant or the Company;
2.4.6 material that is unlawful, or which may constitute a criminal offence; or
2.4.7 content which has been manipulated in a way beyond the abilities of the smartphone filter.
2.5 Any entry which does not comply with the above restrictions, in the sole discretion of the Company, will be disqualified from the Competition.
2.6 The Company will not accept: (i) responsibility for entries that are lost, mislaid, damaged or delayed in transit, regardless of cause, including, for example, as a result of any equipment failure, technical malfunction, systems, satellite, network, server, computer hardware or software failure of any kind; or (ii) proof of transmission as proof of receipt of entry to the Competition.
3. Competition Prize
3.1 The prize consists of 2 x First Class Grand Central Rail train tickets provided by the Company. Travel can only be made on a Grand Central service on a Grand Central route and is not available on trains with any other provider. Tickets will be sent out within 7 days of the winner claiming their prize. Prize must be claimed within 48 hours of the competition ending or Grand Central reserve the right to select a new winner. The winner must reside at a UK address only. No cash or voucher alternative is available. The prize will be provided by the Company.
3.2 The Company reserves the right to substitute the prize (or any portion thereof) with one of comparable or greater value at its sole and absolute discretion. The winners are fully responsible for any and all applicable taxes in respect of the prize.
3.3 All costs and expenses associated with receipt of the prize and any use not specified in these terms and conditions as being provided are the sole responsibility of the winners.
4. Winners
4.1 The winner will be determined by Grand Central and will be announced by 24/11//2021. The winner will then be contacted via email by the Company to confirm they have won the Competition. The decision of the Company is final, and no correspondence will be entered into after the decision.
4.2 If you object to any or all of your details being published or made available, please contact the Company. In such circumstances, the Company must still provide the information and winning entry to the Advertising Standards Authority on request.
5. Ownership of entries
5.1 All entries and any accompanying material submitted to the Company will become the property of the Company on receipt and will not be returned.
5.2 You agree that the Company may, but is not required to, make your entry available on its website and any other media, whether now known or invented in the future, and in connection with any publicity of the competition. You agree to grant the Company a non-exclusive, worldwide, irrevocable licence, for the full period of any intellectual property rights in the entry and any accompanying materials, to use, display, publish, transmit, copy, edit, alter, store, re-format and sub-licence the entry and any accompanying materials for such purposes.
6. General
6.1 If there is any reason to believe that there has been a breach of these terms and conditions, the Company may, at its sole discretion, reserve the right to exclude you from participating in the Competition.
6.2 The Company will only process your personal information as set out in its Privacy Policy. See also clauses 4.1 and 4.2, with regard to the announcement of winners.
6.3 The Company reserves the right to hold void, suspend, cancel, or amend the Competition where it becomes necessary to do so.
6.4 These terms and conditions shall be governed by English law, and the parties submit to the exclusive jurisdiction of the courts of England and Wales.