Page Title
Food & drink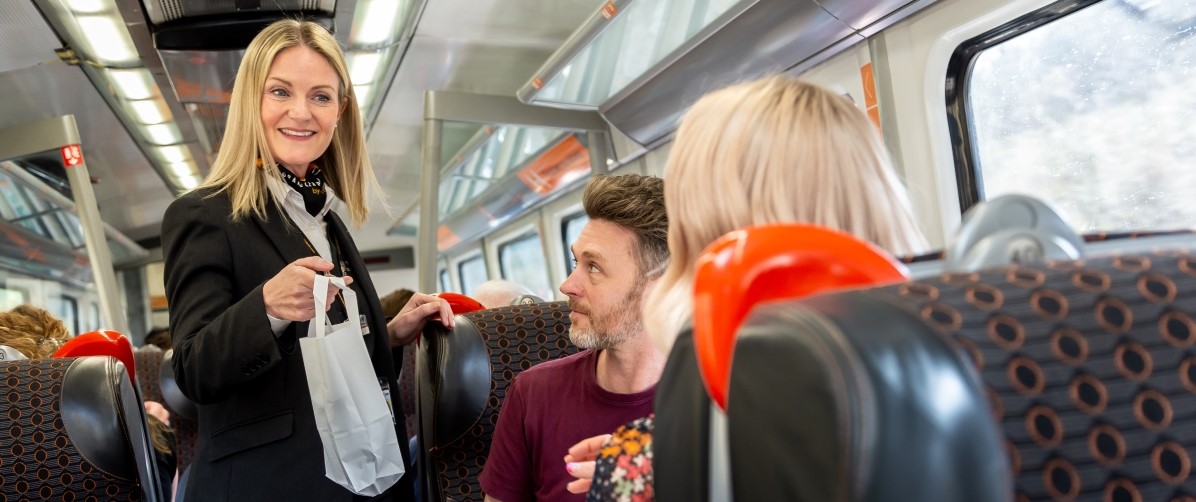 Order your food at your seat
When we asked our passengers what they wanted from an on-board catering offering, one of the biggest things was the ability to order and pay for their food without leaving their seats. Thanks to our digital Journey Central platform, we're really excited that we've added this feature to all Grand Central trains, giving you a smoother, more comfortable experience.
All you have to do is scan the QR code in front of your seat with your phone, choose what you want from our varied menu and pay using our secure online platform. You will be notified when your order is ready to collect from our buffet car - or, for our First Class passengers, your refreshments will be delivered direct to your seat.*
If you would rather go to the buffet car to make your purchase, you can pay by cash or card payment.
What we serve
Our buffet service provides a large selection of hot and cold drinks, fresh sandwiches, snacks and sweet treats. We also offer a wide range of alcoholic drinks, crisps, snacks and chocolate.
We serve:
Lavazza Super Crema coffee beans – A fabulous premium blend from Italy's favourite coffee company that combines sweet Brazilian coffee beans and central and South American Coffee beans to make a mild espresso with notes of Honey and dried fruit.
Fresh sandwiches and snacks from Bradford based Tiffin Sandwiches. Tiffin use only freshest, superior quality ingredients, the majority sourced from local businesses, hand made with care.
Our On-Board Menu
The menu below is accurate as of 7th June 2023.
On-board menu

Product list
Price
Hot drinks
Yorkshire Tea
£2.20
Earl Grey Tea
£2.20
Green Tea
£2.20
Taylor's Decaf Tea
£2.20
Clipper Peppermint Tea
£2.20
Clipper Lemon & Ginger Tea
£2.20
Kenco Decaf Coffee
£2.20
Kenco Smooth Coffee
£2.20
Americano Coffee (50 kcal)
£2.60
Cafe Latte (100 kcal)
£2.60
Cappuccino (100 kcal)
£2.60
Flat White (100 kcal)
£2.60
Mocha (123 kcal)
£2.60
Hot Chocolate (74 kcal)
£2.60
Espresso (32 kcal)
£2.60
Soft drinks
Coke (330ml)
£1.50
Diet Coke (330ml)
£1.20
Sprite Zero (330ml)
£1.20
JuiceBurst Orange (500ml)
£2.00
Still water (500ml)
£1.20
Sparkling water (500ml)
£1.20
Snacks
Burt's crisps Ready Salted
£1.20
Burt's crisps Salt and Vinegar
£1.20
Burt's crisps Cheese and Onion
£1.20
Quavers
£1.20
Scrubby's Chilli and Lemon Lentil Chips (gf)
£1.20
Breakfast
Pain Au Chocolat
£2.20
Ambrosia Porridge
£2.50
Heavenly Bakers Muesli (gf)
£2.00
Sweet Treats
KitKat
£1.00
Shortbread fingers
£1.00
Dairy Milk
£1.00
Blueberry Muffin
£2.50
Oat and Raisin Cookie
£1.50
Haribo (gf)
£2.00
Hot Food
Quorn Chilli Bean Pot (ve)
£3.50
Naked Noodle Teriyaki (ve)
£3.00
Naked Rice Thai Curry Free From (gf/ve)
£3.00
Alcoholic drinks
San Miguel
£4.50
Magners Cider
£4.50
Northern Monk Faith IPA (ve)
£4.50
Red Wine 18.7cl
£4.50
White Wine 18.7cl
£4.50
Gordon's Gin & Tonic 250ml
£4.50
Prosecco
£6.50
3 x mix and match on alcoholic cans and wine
£12.00
2 x 187ml bottles of prosecco
£12.00
---
Please note that refreshments are subject to availability.
*At seat catering is subject to demand