Page Title
More than a railway station? It's time to explore the hidden attractions of King's Cross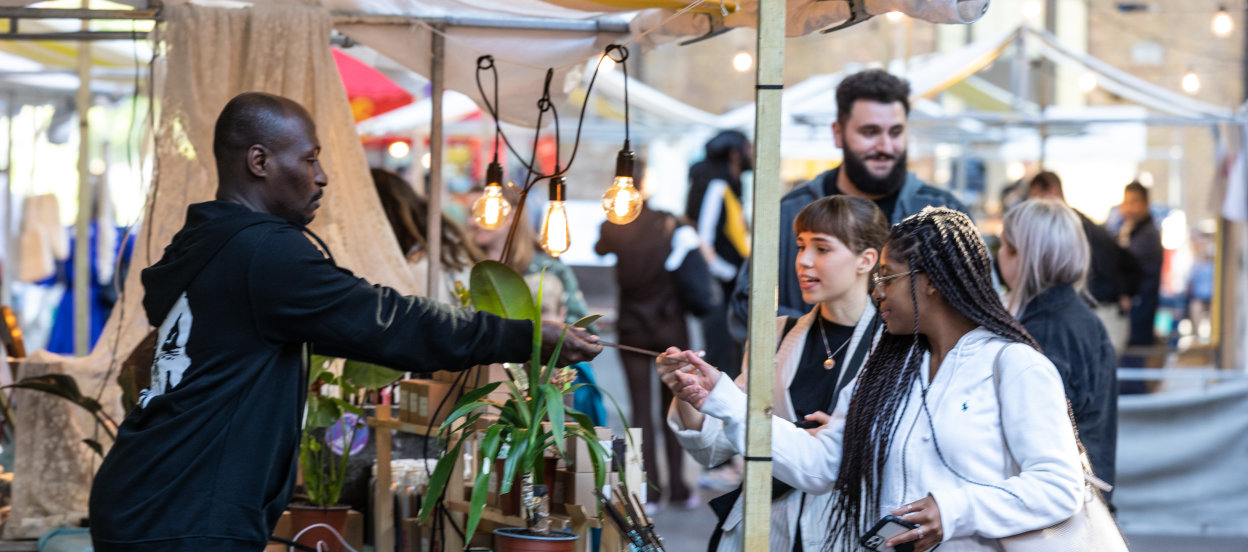 LONDON is a city which rewards exploration on foot. Wander in any direction and you'll notice so many street gems - blue plaques, evocative street names, hidden pubs and historic oddities unique to the capital.
For many of us, a visit to London begins at King's Cross, where we hurriedly get off our train and strike out for the attractions of London on the tube, taxi, bus or, if we're feeling energetic, on foot.
But in your hurry to escape the bustle of King's Cross, you could be missing out on one of the area's best kept secrets, and one which is definitely worth checking out before you head off.
Take a short walk behind the station, head over Regent's Canal and, every Friday, Saturday and Sunday you'll find one of the coolest little covered markets in London. Situated under a sprawling Victorian steel and glass roof, Canopy Market is not just a place to pick up some fantastic produce, but also to hang around for while and take in the live music and enjoy a craft beer.
Originally the site of a potato and fish market in the 1880's, Canopy Market was reborn as a weekly event in 2018 to showcase artisan produce, street food, homeware, jewellery and the arts. Following a brief disappearance earlier this year during height of lockdown, the market is now back in full swing. And because the West Handyside Canopy, which houses the event, is so big and airy, the market doesn't feel crowded but offers lots of space to browse or relax.
The wider area around the market is one which has enjoyed a facelift and modernisation over recent years and Canopy Market is very close to other attractions worth exploring while you're in King's Cross. We've listed a few here:
Coal Drops Yard
Located off Granary Square, Coal Drops Yard is a shopping destination and foodie hotspot just a five-minute walk from King's Cross St Pancras stations. Filled with stores, restaurants, bars, and cafés, the area hosts many al fresco dining spots, including Barrafina, El Pastor and Vermuteria.
The Drops
The Drops, which launches on June 25, is a new, monthly, design-led market starting up in Coal Drops Yard – featuring emerging designers, cult brands and established labels. It will run on Fridays, Saturdays and Sundays,
Lower Stable Street Market
Coal Drops Yard also hosts Lower Stable Market every Saturday and Sunday, which runs the length of Lower Stable Street and has a stellar line-up of stallholders, all handpicked by independent magazine-turned store, Kiosk N1C.
The Silk Road: A Living History
Set in the Lewis Cubitt Square, The Silk Road is an open-air exhibition by a photographer Christopher Wilton-Steer who travelled along the historic trade route known as The Silk Road in 2019, capturing a series of breath-taking images along the way. The exhibition is comprised of over 160 photographs displayed across 24 art benches in the square. The Silk Road is open until 30 September 2021.
King's Cross audio tour with Russell Tovey
King's Cross offers a free audio tour about the area, led by actor Russell Tovey. Available to download on a phone, the tour is packed with historical photographs, timelapse videos, and behind-the-scenes footage.
Both Grand Central's routes run daily, regular services to London King's Cross. You can reserve your seat here.
For more information on Canopy Market and the attractions around King's Cross, head to the King's Cross website.