The dawn of a new era as Grand Central invests £21 million in trains to serve its new North West route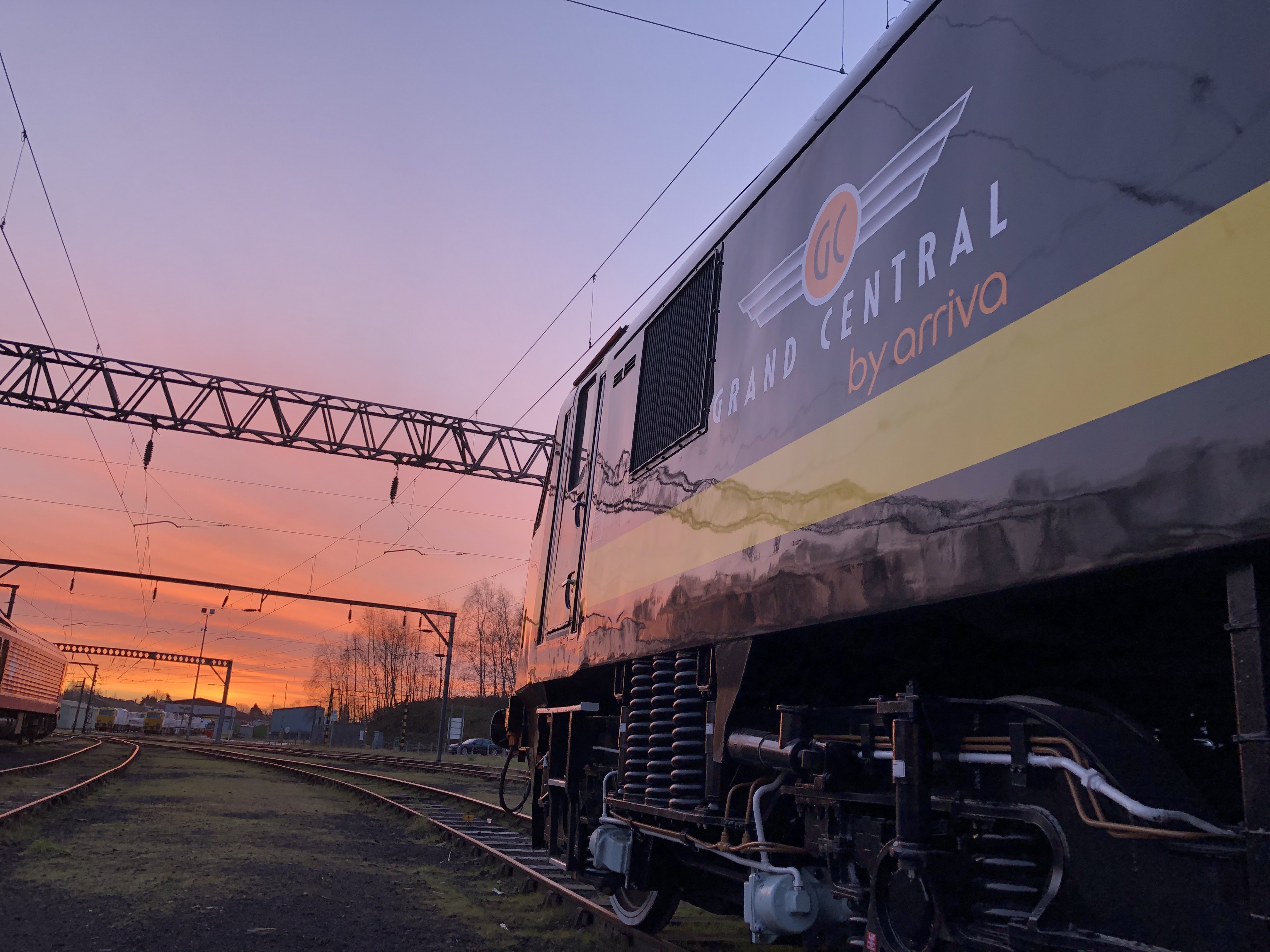 Grand Central is investing more than £21 million in trains to operate on its new North West to London route, with the refurbishment of the first locomotive complete with its iconic livery.
The open access rail operator today revealed it has leased 24 coaches and 5 locomotives, to run daily direct services between Blackpool North and London Euston starting later this year.
Four sets of MK4 coaches in six-car formation have been leased from Eversholt Rail until December 2026. The coaches will be maintained at Alstom's Wembley depot and serviced overnight at Arriva North's Blackpool depot.
The coaches are currently undergoing a £1.5 million refurbishment at Alstom in Widnes, which will include Grand Central livery and a full interior refresh designed with the comfort of leisure and business passengers in mind.
Each of the trains running along the North West to London route will include First Class carriages, free Wi-Fi throughout, buffet, accessible toilets and baby changing facilities. There will also be wheelchair and priority seating available.
From next month (March), people living in the vicinity of stations along the new North West to London Euston route may spot three sets of coaches (MK4s), as driver training gets underway. These coaches have been secured under short-term lease from Eversholt Rail.
Grand Central has also hired a pool of five locomotives (Class 90s) from DB Cargo UK (pictured). Four of these will be in service at any one time, with one locomotive spare for maintenance purposes.
These electric, non-tilting trains, will run along the North West – London Euston route, as well as other cleared routes between Blackpool, Preston, Nuneaton, Milton Keynes and London when diversions are needed. The trains will be maintained by DB Cargo UK at Crewe Electric Maintenance Depot. Grand Central's North West fleet is compliant with disability and accessibility standards (PRM).
Paul Batty, Fleet Project Manager for Grand Central, said: "We are incredibly proud of the work that has been done to bring our new fleet of rolling stock to fruition, starting with our first locomotive ready to begin driver training in a couple of weeks' time. It's taken a lot of planning and a considerable team effort to get to this stage and it's fantastic that our customers will soon be able to see our refurbished Grand Central trains in operation."
Dave Hatfield, Grand Central's Fleet Director, said: "We're delighted to reveal our rolling stock for our new North West to London route. These trains have been chosen because of their proven track record and suitability for the service that we will be operating.
"It's exciting times ahead and we're thrilled to be bringing our operational expertise and industry-leading customer service to this new route. We can't wait to welcome our first passengers on board to experience travelling with Grand Central and look forward to offering more choice for existing rail users and new opportunities for people to travel by train."
Steve Timothy, Stakeholder Director at Eversholt Rail said: "Eversholt Rail are delighted that Grand Central has chosen our MK4 coaches for its new North West to London rail service. We look forward to working with Grand Central and extending our successful working relationship with the Arriva Group."
A spokesman for DB Cargo said: "We're delighted to be working with our colleagues at Grand Central to provide such a range of valuable services for passengers in the North West."
Grand Central's North West to London services were approved in June 2018 by the Rail Regulator, the Office of Rail and Road.
Grand Central currently operates direct trains between towns and cities in Yorkshire and the North East of England and London. The company has an industry-leading reputation for customer service and value for money and a track record of supporting and investing in local communities around its networks.
In a move which is expected to bring significant economic benefits to the North West, including a boost to tourism, Grand Central will operate up to five new direct train services between Blackpool North and London Euston every day of the week.
Blackpool will gain direct services to London on Sundays, as well as later trains to and from the capital on Mondays to Saturdays. Poulton-le-Fylde and Kirkham & Wesham will each have new direct London services throughout the day, seven days a week.
All trains will also call at Preston and Nuneaton, with most stopping additionally at Milton Keynes, connecting leisure and business travellers to the capital and offering a choice of operator along with great value fares.
Grand Central has successfully recruited train drivers and is in the final stages of recruiting the onboard staff it needs for its Blackpool traincrew hub. More information can be found at www.grandcentralrail.com/careers
More information about the Blackpool route, proposed timetable and daily services is available at www.grandcentral.rail.com/blackpool
Picture caption: Class 90 locomotive at Crewe Electric Maintenance Depot
Picture credit: Robert Fenner, DB Cargo.
---
Notes to editors:
Grand Central Railway Company Limited is an established train operator which provides direct rail connections from towns and cities in Yorkshire and the North East England with London.
Customer satisfaction levels are consistently high and the rail company was named Britain's best long distance rail operator for the ninth time and overall best value for money operator in the Autumn 2019 National Rail Passenger Survey.
Grand Central operates West Riding services between Bradford Interchange, Low Moor, Halifax, Brighouse, Mirfield, Wakefield Kirkgate, Pontefract Monkhill, Doncaster and London King's Cross. The rail operator also operates North East services between Sunderland, Hartlepool, Eaglescliffe, Northallerton, Thirsk, York and London King's Cross. Grand Central will start operating services on the North West between Blackpool, Poulton-le-Fylde, Kirkham and Wesham, Preston, Nuneaton, Milton Keynes and London Euston in 2020.
Grand Central is part of the Arriva group. Arriva is one of the leading providers of passenger transport in Europe, employing over 53,000 people and delivering 2 billion passenger journeys a year across 14 European countries. We are part of Deutsche Bahn (DB), one of the world's leading passenger and logistics companies, and are responsible for DB's regional passenger transport services outside Germany.
For further information, please contact:
Sarah Banks/Anna Hodgson
PR Account Director
0191 261 4250
[email protected]
[email protected]
[email protected]