Page Title
Hollywood Travel: The Grand Central guide to the most train-friendly films and TV shows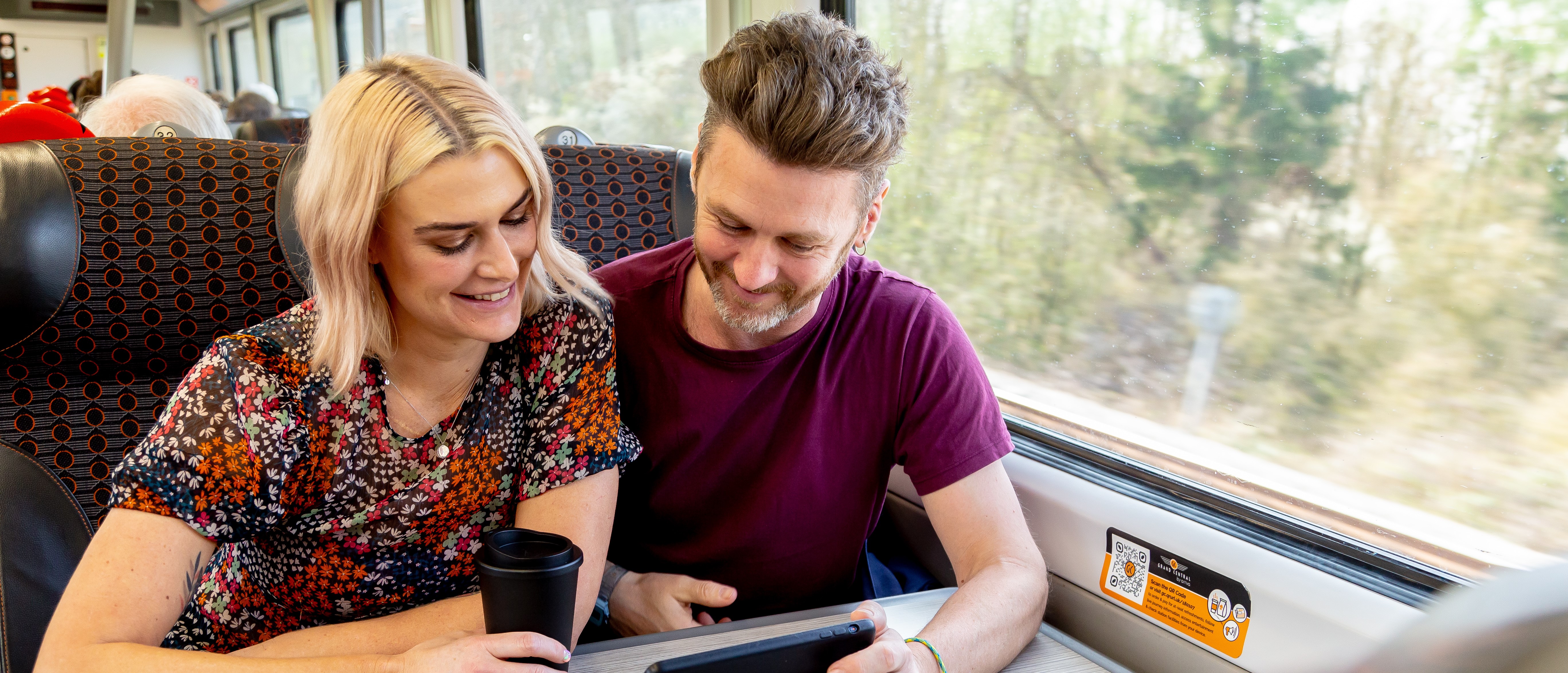 Whether you're on the move for work or for leisure purposes, travelling by rail can be an especially relaxing experience, allowing you to take time out of your busy day to unwind, switch off, and enjoy some uninterrupted "me time".
Many rail passengers bring with them their favourite source of entertainment to help them pass the time and truly switch off. For some, this may be their favourite book to get lost in, or the latest issue of a magazine that they've been meaning to flick through for some time.
For others, hopping onboard one of our trains can offer up the opportunity to open up their laptop, pop in their headphones, and finally get stuck into the next episode of that TV show everyone is talking about, or the latest movie they've been dying to watch.
But, if you – like us – enjoy sitting back and getting emersed in something on 'the small screen' what are the most train-friendly options?
Inspired by this years' Academy Awards (Oscars) ceremony, we were inspired to pull together a list of some of the most train-friendly films and TV shows that our customers could watch while travelling be rail - without worrying if they include any scenes you wouldn't want your seat neighbour to see.
Read on to find out more about how we ranked our top 20, as well as which titles claimed the top spots.

On the go entertainment
To create our top 20 list, we collated key IMDB data¹ on some of the top-rated film and TV shows from the past five years, looking closely into key factors such as their age ratings and any parental warnings.
In order to create our train-friendly ranking, we awarded points for each of the following, for every show or film:
Its IMDB rating (Out of 10)

Genre (horror may not be train-friendly...!)
Age certificate (e.g., PG, 12A, 15, etc.)

The parental guidance warnings given, e.g., naughty words, violence, or rather awkward "adult" scenes you'd rather not watch in front of others (None/Mild/Moderate/Severe)
We also looked at the total length of film / a single episode, to see how it compares with popular Grand Central journeys.
Claiming the number one spot on our list, was the wonderful Yorkshire-based, veterinary drama, All Creatures Great and Small. This easy-to-watch series which first aired in 2020, is based on the autobiographical books by James Herriot, and showcases some of the beautiful Yorkshire scenery which can be found not too far from some of our stations.
The series took first place thanks to its high rating of 8.5 out of 10 on IMDB, as well as boasting absolutely no naughty words, and no references to awkward adult scenes – hoorah! Additionally, the popular 2020 remake gained just a "mild" warning in reference to violence, meaning it's very unlikely the person sitting next to you will be put off their lunch by what you're watching!
Even better, and thanks to its running time of just under an hour per episode, you can easily fit in a single episode on some of our shorter train routes, such as the Hartlepool to York line (1 hour 12 minutes). Whilst those travelling on our Thirsk to London Kings Cross route (2hours, 11 minutes), could easily squeeze in two gripping episodes of the series whilst on their journey.
Fun fact... for fans of the popular TV show, those eager to learn more about the real James Herriot, you can even travel with us to Thirsk to visit the World of James Herriot museum.
Grand Central's Top 20 Train Friendly Film and TV Shows:
All Creatures Great and Small (My5 2020)

Ghosts (BBC iPlayer, 2021)

Call the Midwife (BBC iPlayer, 2012 - )

The Gilded Age (Netflix, 2022)

Doctor Who (BBC iPlayer, 2005 - )

My Octopus Teacher (Netflix, 2020)

The Ice Age Adventures of Buck Wild (Disney+, 2022)

The Apprentice (BBC iPlayer, 2005 - )

The Masked Singer UK (ITV Hub, 2020 - )

Luca (Disney+, 2021)

Riverdance (Netflix, 2021)

After Life (Netflix, 2019–2022)

Downton Abbey (ITV Hub, 2010 – 2015)

Death in Paradise (BBC iPlayer, 2011 - )

The Father (Amazon Prime, 2020)

Sing 2 Amazon Prime, (2021)

The Mitchells vs the Machines (Netflix, 2021)

The Royal Treatment (Netflix, 2022)

Selling Sunset (Netflix, 2019 - )

Encanto (Disney+, 2021)



Other titles that ranked highly alongside the popular veterinary drama included the British sitcom, Ghosts (2021); 1950s medical drama, Call the Midwife (2012 - ); US historical drama, the Gilded Age (2022); and British sci-fi series, Doctor Who (2005 - ).
For those embarking upon a longer train journey in the coming months, there were also lots of popular films in the top 20 list.
The film we deemed to be most train friendly was the Oscar award winning documentary, My Octopus Teacher (2020), securing a place at number six on the list. The Netflix original educational documentary, which is set in the breath-taking oceans of South Africa, is suitable for both adults and children alike thanks to its "U" rating, and contains just mild references to violence, with no mention of bad language, or adult scenes throughout.
With a running time of 1 hour 25 minutes, the movie could be comfortably watched in its entirety when travelling along the Sunderland to York route with Grand Central (1 hour 36 minutes), the Northallerton to Kings Cross journey (2 hours 24 minutes), or the Doncaster to London Kings Cross route (1 hour 37 minutes) - with Grand Central's speedy journey options, you could take in a movie and be in the capital before you know it!

Other films that claimed a place on our train-friendly watch list included two popular Disney animations, the Ice Age Adventures of Buck Wild (2022); and Luca (2021), an animated take on the popular show, Riverdance: The Animated Adventure (2021); and the BAFTA award winning, the Father (2020).
As keen film buffs and in keeping with the theme of Hollywood and the silver screen, we were also keen to see just how different our train carriages could look if they were redesigned in the distinctive style of five of this year's Oscar-nominated or winning movies.
Rather than reveal the list of films that inspired our fantasy train carriage designs, we're challenging you to identify the movies they're based upon – but will you guess all five? To help you on your way, we've come up with a series of clues we hope will give you a little bit of help as to which is which, and the answers can be found at the end of this article.
This one may be a tad easy to spot. This live action movie tells the tale behind one of Disney's most iconic villains

– and was the winner of this years' Oscar for Best Costume Design!