Page Title
How to work efficiently whilst travelling on a train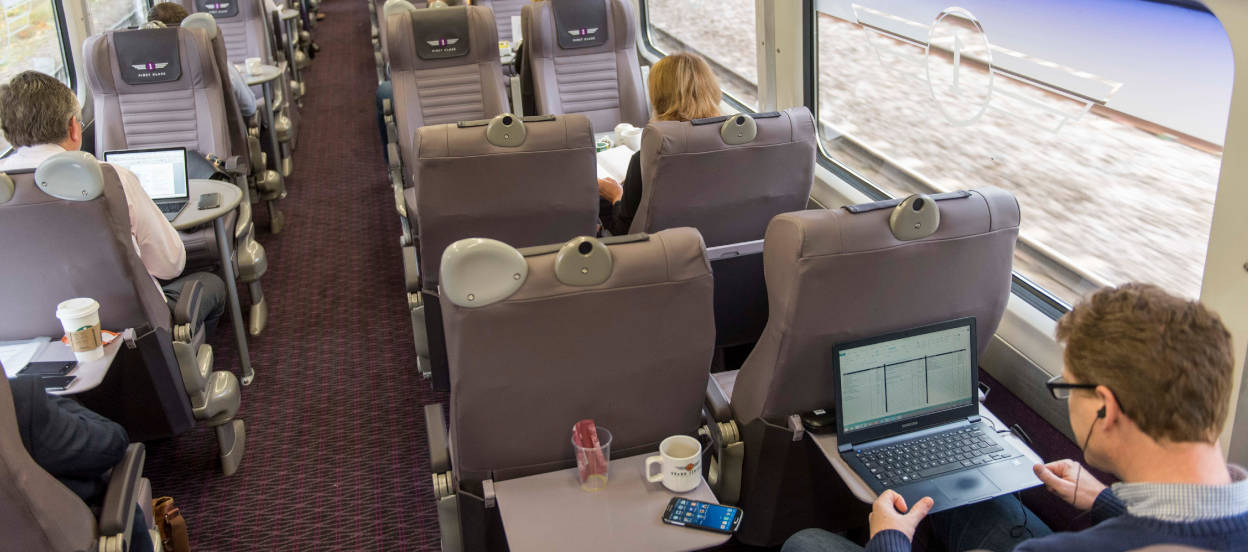 For those of us who have to commute to work every day, the daily train journey can sometimes become repetitive and frustrating. Even those who only travel once or twice a month for business meetings or seminars can still find it a chore.
Whether you are restricted by busy peak time train travel or just find train journeys unproductive, then perhaps there are some simple tasks that you could carry out onboard to help the time pass quicker?
Here we offer a few suggestions that might even help you get ahead in your workplace, too…
Brainstorm ideas
Trains are a great place to brainstorm. The passing scenery, the diversity of passengers around you and the overheard conversations – all triggering ideas and suggestions for your next meeting!
If you have a long journey to get through, then use the time to think about an upcoming project and how you can get the best results. Although typical brainstorming is done in a group, you could generate some great ideas of your own and go along armed to the creative session with more ideas than ever before.
Write down your brainstorming goals at the beginning of your journey and have clarity about what you want to get out of the session. Plus, if you find the chatter of other passengers distracting, then pop on your headphones, download a bit of classical music and you never know what you might come up with!
Planning ahead
Planning and organising are admin tasks that sometimes eat into your valuable working day. Therefore, if you can tie up some lose admin ends on the train before you even get to work, then there will be more time for the interesting stuff once you have arrived.
Booking meeting rooms, making attendee lists, planning appraisal forms, creating agendas and checking diary dates are all tasks that can be done from your train seat so that you can feel prepared for any forthcoming meeting or event. Formatting spreadsheets and proofing presentation documents are also activities that you can work on to get ahead of the game in the office.
Writing up meeting notes
Just finished your meeting in London and heading back up north to York station? Use your train journey time wisely and write up some concise notes to feedback to the rest of your team upon your return.
Not only will all the information be fresh in your mind, so you don't forget anything, but you will have a good chunk of time, with no distractions, so that you can make your findings as detailed as possible. Write down individual action points and next steps to ensure your meeting was well worth the trip.